How to setup GigE cameras with Swing Catalyst
This article covers how to setup a GigE camera to be used with Swing Catalyst.
GigE Vision is an interface standard for machine vision cameras. Swing Catalyst supports the GigE Vision standard through a licensed USB dongle.
Swing Catalyst also supports several gigabit Ethernet cameras from different manufacturers such as:
AVT,

FLIR / Point Grey &

IDS.

Other GigE Vision cameras through third party licensing.
For more information related to our supported cameras please see this article: http://support.swingcatalyst.com/hc/en-us/articles/200967858-Supported-Cameras
For the most accurate recommendations please refer to your camera manufacturer's setup articles.
Hardware Requirements
Recommended Network Adapters:
To setup and install GigE cameras you will require one or more free network ports in your computer, please make sure you have the correct type of PCIe slot available. Generally most dual port cards require 1 x4 PCIe slot.
We recommend using one of the following network cards since they have been tested and verified to work by the manufacturer:

Intel Pro 1000 PT (PCIe x1, 1 port)

Intel Pro 1000 GT (PCI, 1 port)

Intel CT (PCIe x1, 1 port)
Intel Pro 1000 PT Dual Port (PCIe x4, 2 ports)
Intel Pro 1000 PT Quad Port Low Profile (PCIe x4, 4 ports)
PoE Network cards
Note: Same network bandwidth requirements as normal network cards.
Recommended models:
Please note PoE network cards require power from the computers power supply.
It is also possible to use other Gigabit network cards, but it is important to note that the card must support Jumbo Frames / Jumbo Packets.
Using more than one camera per network interface:
If you wish to use more than one camera it may in some cases also be necessary to use a Gigabit network switch. Most Gigabit switches will work, but it is important to ensure that the switch also has support for 9KB Jumbo Frames.
Tested & recommended switch:
Netgear GS105 gigabit switch 5-port
*Note: Not all camera's can run on a network switch, some require a dedicated port (for help on this please consult the camera manufacturer).
Non supported network adapters:
Qualcomm Killer / Etherkiller e2200 network card series do not work well with GigE camera's.
Many Realtek network cards do not work well with IDS GigE & Point Grey GigE cameras, wherever possible use a recommended network adapter as many of these adapters cause stability issues.
Configuring the network adapter
These steps are simplified and generalized and may not apply exactly to your camera.
Configure the network card to accept "Jumbo Frames (9K)"
Install the drivers and make sure to accept installation of the "filter" driver.

For Halcon users, please make sure the camera is using the MVTEC Halcon filter driver.
Enable Interrupt Moderation & set rate Extreme or High.
Disable all network modules on the network card except IPv4 & the filter driver.
Example: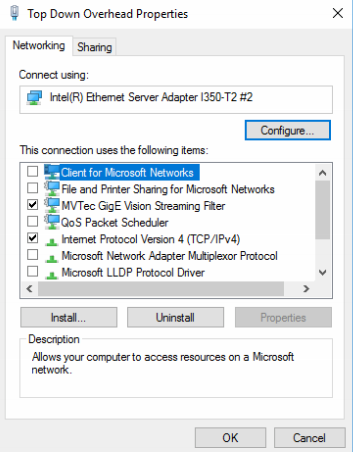 Connecting the GigE camera(s)
To connect a single GigE cameras just use a normal CAT5e/6 RJ45 network cable to connect the camera directly to the gigabit network card/port.
If you wish to connect more than one camera you may use multiple network cards or in some cases a network switch to connect multiple cameras to a single card (see recommended adapters)
Using a network switch is only possible in some cases (where the total bandwidth of all the cameras does not exceed that of a gigabit port), please contact us if you are unsure if this is possible in your case.
Connecting 2 cameras to a single network card/port
In some cases it is possible to connect 2 cameras to a single network card/port. This is possible if the overall bandwidth is less than 1gigabit.

Point Grey / FLIR: We strongly recommend having a dedicated network port for each camera for these camera's. Or the Packet Delay must be configured per camera as per the GigE setup article to 9500.
IP Setup
Each camera and ethernet card should be configured with static IP's on different subnets (and a subnet mask)
Example:
Network adapter 1:

Network adapter IP: 10.0.1.1
Camera IP: 10.0.1.10 ... 10.0.1.20
Subnet mask:255.255.255.0

Network adapter 2:

Network adapter IP: 10.0.2.1
Camera IP: 10.0.2.10 ... 10.0.2.20
Subnet mask: 255.255.255.0
Note: Camera IP & Network Adapter IP has a different subnet than Network adapter 1, this will improve performance vs having both camera's on the same subnet.
Recommended adapter configurations
Jumbo Frames
Make sure jumbo frames are enabled if available, this significantly reduces CPU cycles & overhead, which leads to better performance. If you do not have 9KB jumbo frames / packets, please see our recommended network specifications.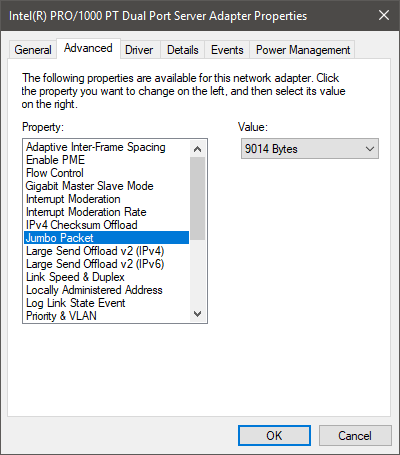 Interrupt Moderation
Interrupt moderation is another way to help reduce overhead & CPU usage. We recommend that in most cases it be enabled & the rate be set to high or extreme where possible.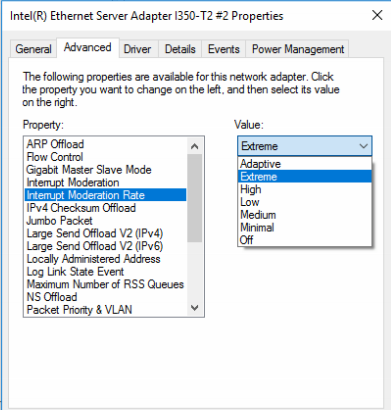 Receive Buffers
Setting the receive buffers to the highest value available also can help to reduce overall overhead, and is generally recommended.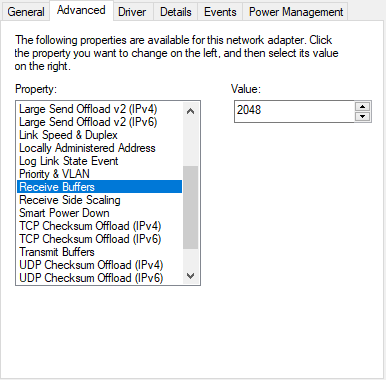 Troubleshooting
Jumbo Frame compatibility
Not all network adapters support 9KB Jumbo Frames. It's best to use the highest jumbo frame KB size the network adapter supports, but generally it's best to use a network adapter that supports 9KB to improve performance.
Example scenario: Multiple cameras connected through a switch to a NIC.
Not all network switches support 9KB jumbo frames, and if the NIC (network adapter) is set to use 9KB (or a higher packet size than what the switch can handle) it will result in packet loss. This results in dropped frames in Swing Catalyst.
Many switches support jumbo frames (as often noted in the specifications), but not all support 9KB jumbo frames, often you will find equipment supports up to 4KB.
For example if you were to connect a camera to a switch that only support 4KB jumbo frames and have your network adapter set to 9KB jumbo frames it will cause issues.
You can test the performance of the network adapter by using the command line utility, ping (as demonstrated in the screenshot):
Here we're pinging the network adapter with packet size of 9000 bytes (9KB). If the request times out it's likely it doesn't support 9KB jumbo frames.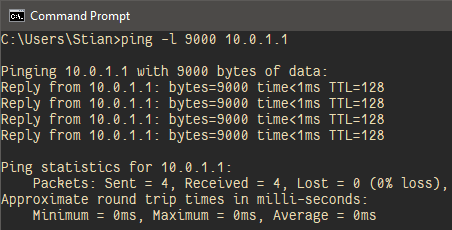 Interrupt moderation
In some cases where you are using more than 3 cameras, having the interrupt moderation set to "Extreme" or "High" may actually result in dropped packets.
If the moderation rate is high, the amount of CPU interrupts will be suppressed, which leads to a lower CPU load. However, the less often the interrupt happens, the more likely the ACK response from the host will be slow. This may result in dropped packets if you are streaming images at fast frame rate.

Choosing a different moderation depending on your system can improve network and system performance.

You can read more about this under Interrupt Moderation Rate section in this article: https://www.flir.com/support-center/iis/machine-vision/application-note/troubleshooting-image-consistency-errors/.