How to use Point Grey machine vision cameras with Swing Catalyst
Warning: Please note that these instructions are for older versions of Swing Catalyst or for certain older Point Grey cameras. Please see our newer articles
Note: Camera control settings are limited to FlyCapture (Point Grey software).
Supported camera types: GigE, Firewire and USB 2.0 / 3.0 that support the FlyCap2 SDK.
For GigE camera configuration please see this article: https://support.swingcatalyst.com/hc/en-us/articles/115006992508
Drivers can be found here: https://swingcatalyst.com/drivers
Note: The FLiR Spinnaker SDK is not supported by this article. See the Blackfly S / Spinnaker articles instead: https://support.swingcatalyst.com/hc/en-us/articles/360015859260-Using-FLiR-Blackfly-S-Spinnaker-cameras-with-Swing-Catalyst
Steps:
Open the Point Grey FlyCap2 application.
Make sure the camera is detected in the Point Grey software.
3. Click configure selected and a new window will pop up, this is where we will configure the camera settings. Please refer to the Point Grey camera documentation details on using FlyCapture2.
How to change the shutter speed & other camera settings
Under shutter, makes sure the Auto box is unchecked & set the shutter speed (we recommend 2ms or less for swing analysis). To save settings see 4.
It may also be necessary to adjust the frame rate, you can uncheck auto and set it to what your desired frame rate, then follow step 4.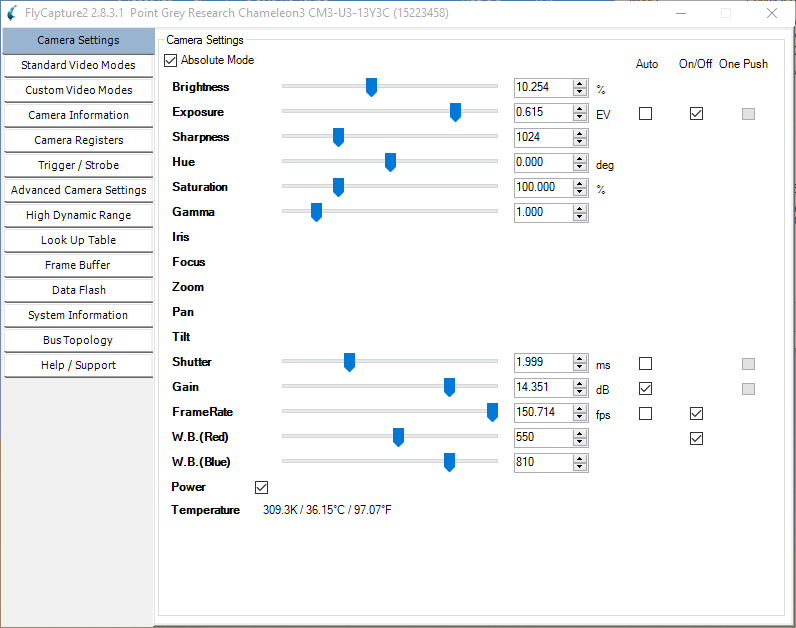 In the camera settings, make sure you uncheck auto for the exposure and gain if you're in a static lighting setting, e.g indoors.
For the best possible image quality we do not recommend having the gain set to maximum as it introduces more noise in the image.
4. Saving camera settings
Navigate to Advance Camera Settings, and under Memory Channel, make sure it is set to Channel 1, and click Save.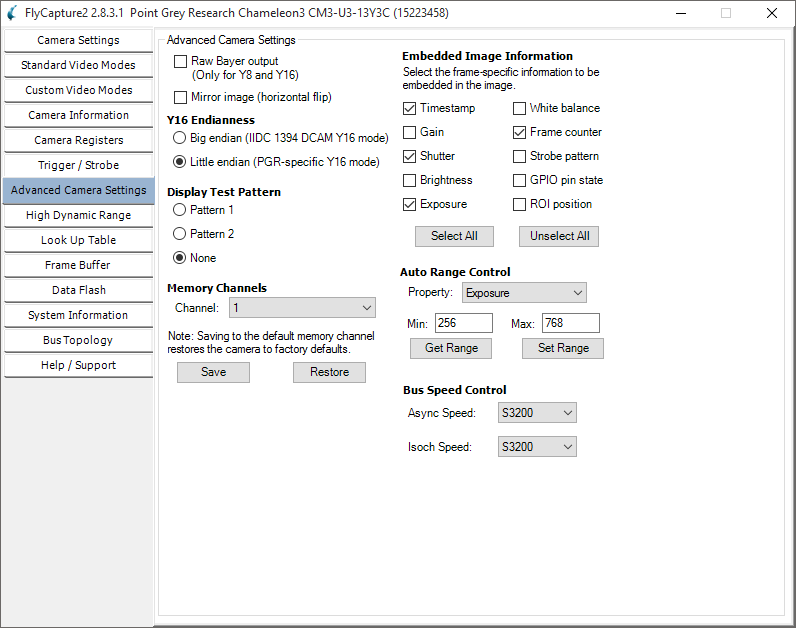 5. Close the Point Grey FlyCap software, and confirm that the camera shows up in Swing Catalyst.

Other options:
You can also change the region of interest / area of interest under Custom Video Modes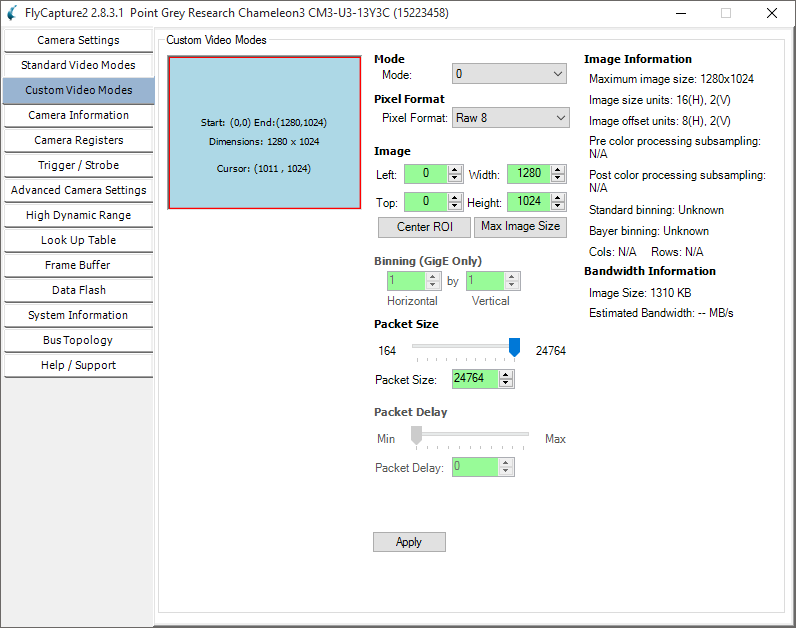 Here we apply a Region of Interest by cropping the image down to 800x800 pixels.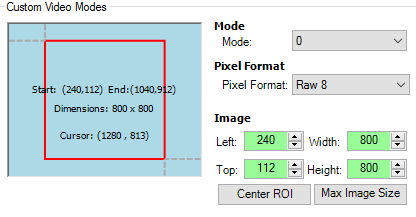 In some cases this can be beneficial as it can increase your frame rate.
Make sure to save (see point 3) when you're done.
Note: If you are dropping frames you might want to drop the packet size down, depending on your system setup & camera, whether or not it's USB or GigE. For GigE please see this article:
https://support.swingcatalyst.com/hc/en-us/articles/115006992508
Troubleshooting
Laptops with more than one graphics processor:
If your laptop has more than one graphics processor (GPU) (often Intel & Nvidia) it's important Swing Catalyst uses the high performant one instead of Intel graphics. Please see this article on how to set the default GPU for a program:
https://pureinfotech.com/set-gpu-app-windows-10/
In this case we want Swing Catalyst to run on the NVidia GPU.
Troubleshooting issues is best done through the FlyCapture software. By clicking on the green or red button on the bottom left (of the screenshot) below, it will show you the event statistics and uncover any potential issues with streaming.
Always test the camera's in FlyCap2 to narrow down potential issues before testing in Swing Catalyst.
This will help avoid capture errors in Swing Catalyst.