Introduction
This article describes how to copy the students and recordings made in Swing Catalyst from one computer to another computer, for example when upgrading to a better computer.
Applicable to: Motion Catalyst & Swing Catalyst
Requirements: A separate hard drive or partition with enough free space.
Preparation
Make sure Swing Catalyst is installed on the computer you are copying the database to.
Ensure you have enough room on a USB stick or external hard drive to fit the database + database file.
Moving the Database
When moving the database from one location to another, it's very important to make sure there's enough space in the location you plan to move it to.
Settings, click on General and make note of the path and the size noted under the Database section.
Make sure you have enough storage space in the new location before choosing a new location.
Click "Move database"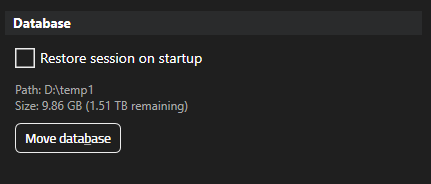 Please make sure that you have a separate partition or hard drive with enough space available when doing this operation.