Introduction
This article describes how to copy your Swing Catalyst settings license and everything to a new computer or hard drive.
To make a copy of your database please refer to our separate article.
Preparation
Make sure Swing Catalyst is installed on the computer you are copying the database to.
Copy the settings files
It's recommended you have a external hard drive or thumb drive to save the settings to when transferring the settings between computers.
Open the Windows File Explorer


Type the following and hit enter: %programdata%
This should open Windows Explorer inside the program data folder.


Navigate into the "Swing Catalyst" folder.


Tip: Hold CTRL on the keyboard and select each folder by clicking it with the mouse.
Select all of the folders except the database folder or golfers. Also select the SwingCatalystDB.s3db file, this is the database file.
Right click and select copy then paste the content onto your thumb drive.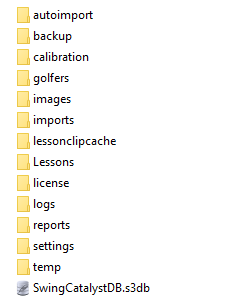 Copying the settings onto the new computer
Note: Make sure Swing Catalyst is not running before proceeding. Doing this will overwrite settings, i.e. your old settings from the previous computer will replace the current ones.
Once copied onto a thumb drive, connect it to the new computer and paste the contents into the same location on the new computer.
Repeat the steps above but instead of selecting and copying, paste the folders and files into the Swing Catalyst program data folder.