Introduction
This support article will describe how to setup the Foresight GC3 or Bushnell Launch Pro with Swing Catalyst.
The Foresight GC3 has WiFi and WiFi Direct along with USB and Ethernet as different ways of connecting to the launch monitor device.
Please note that WiFi in this context is not connecting directly to the GC3, that is called WiFi Direct. WiFi is the network used for the GC3 /BLP to connect to an existing wireless network.
Requirements
Computer with a free USB port, Ethernet port or WiFi (in addition to internet connectivity).
Swing Catalyst 10.0 or later


Note: If you are to use HD cameras with Swing Catalyst we recommend running FSX separately (i.e not at the same time as Swing Catalyst) or on a different computer.

Please make sure you at least have a NVidia GeForce 1080 or better and that the PC adequately follows Foresight's recommendations.
Connection and setup
1. Connect the GC3 via USB, WiFi* or Ethernet.
2. In Settings -> Hardware -> Launch Monitor a selection of launch monitor(s) with different interfaces should be listed.
3. Make sure to select the launch monitor you wish to use with the interface you wish to connect with: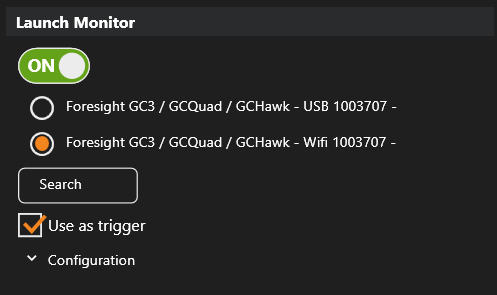 * If connecting via Wi-Fi it's important you have another means of internet connectivity as it must be validated through the internet in order to use the GC3.
The Foresight GC3 is not showing as connected or is not triggering
There is a known bug with the Foresight SDK which affects versions 10.0 to 10.1.0 of Swing Catalyst.
This bug causes Swing Catalyst to not receive data from the GC3/BLP.
Workaround:
Close Swing Catalyst and connect the GC3 / Launch Pro via USB to your computer.
Make sure that the Foresight GC3 is showing up on your computer. It will show up as a Mass Storage Device under This PC.
Download and extract the workaround from: https://cloudfront.swingcatalyst.com/files/GC3-BLP-Workaround.zip
Open the extracted folder and double click on "Workaround.exe". This will open a command prompt window where it will attempt to connect and disconnect to your launch monitor.
2.

4.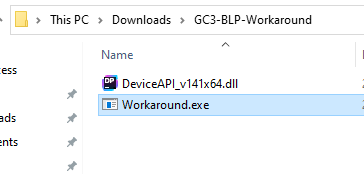 Other troubleshooting suggestions:
Connect the device to a different USB port on the computer if it doesn't show up.
If connected through WiFi Direct make sure you have access to the internet through other means, or have a separate WiFi dongle.
Try connecting through a different interface, e.g. if you have attempted to use WiFi, try Ethernet, or USB.
Make sure no other software is attempting to connect to the device at the same time.
The Foresight GC3 is connected and triggering but the recordings contain no data
Try to power cycle the GC3 / BLP device.
Make sure you are using a club with correctly placed stickers.
Make sure there are no other camera based launch monitors nearby that could interfere with the GC3 /BLP's ability to track the ball.
For further troubleshooting please see Foresights troubleshooting articles below.
Connectivity problems with WiFi
Please see Foresight's troubleshooting steps: https://help.foresightsports.com/hc/en-us/articles/4409069231891-Troubleshooting-for-GC3-Launch-Pro-Wifi-Connection
Software connectivity problems (FSX etc):
https://help.foresightsports.com/hc/en-us/articles/4401839640723-Troubleshooting-Software-Connection-Issues
Obtaining logs from the GC3 / BLP device itself:
https://help.foresightsports.com/hc/en-us/articles/4403426805651-Launch-Monitor-Log-File