How to opt in to beta versions of Swing Catalyst
This article covers how to opt in for beta versions, and how opt out and only receive updates for stable releases of Swing Catalyst*.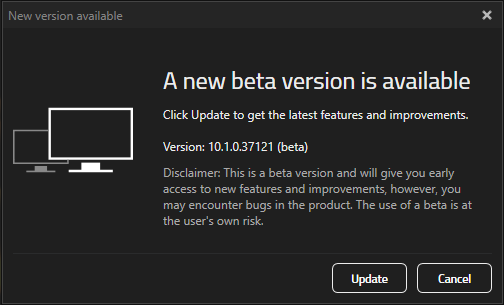 * This article also applies to Motion Catalyst.
This article applies for Swing Catalyst versions 7 and up.
Enabling beta versions

Start the Swing Catalyst software.
From Settings, go to General Settings, Notifications.
Make sure "Allow beta versions" is checked.
Once Swing Catalyst is restarted beta versions will be enabled and you will receive notifications for new beta versions when available.
Updating to new beta versions
Assuming your license is valid for new versions and "Allow beta versions" is enabled, you will receive a pop up once new beta versions are available, titled: "A new beta version is available".
From the Update notification pop up, click "Update", this should launch a new web browser to the Swing Catalyst website: click the "Download" button to download the newest version.
Run the downloaded installer to install the beta version.
Updating from a beta version to stable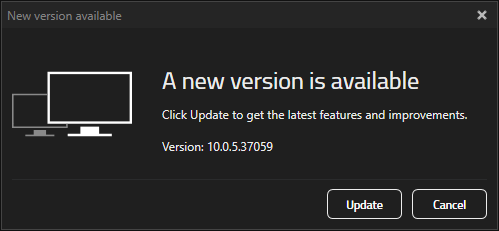 As long as your license is valid / up to date you should receive notifications for new stable releases.
How do I know I'm on a beta version?
If you receive a notification to update and the update notification doesn't explicitly mention beta.
Your software version doesn't match the latest major version listed in the software archive. E.g. You have 10.0.5 rev 37057 installed but latest stable is

10.0.5.37059.
Please see our support article on how to install Swing Catalyst.
Disabling beta versions
Please make sure you follow the instructions applicable to your scenario.
Note: It's very important to NOT disable beta versions if you're currently using a beta version.
Scenario A:
I wish to use the previous stable version of Swing Catalyst, please see this support article.
Alternatively, please see our "how to install & uninstall Swing Catalyst" support article.
Scenario B:
I'm on the latest stable release but no longer wish to receive any new beta notifications.
First it's important to verify that you indeed are on the latest version.
Verify your license. In Settings, General, under License Information, click "License configuration".
Make note of the major version listed on the bottom right, "Valid for versions up to".
Check the current installed version in the title bar, e.g. 10.0.5 rev 37057.
From General settings, ensure you're connected to the internet and click "Check for updates", if no new updates are available you're most likely on the latest stable version and can uncheck beta versions to no longer receive new beta notifications.
How do I know which version is the stable version?
Visit our software archive: https://swingcatalyst.com/downloads/ go to Software Archive. All versions listed in this archive are the latest stable release for each major version.
Enabling Beta versions