Introduction
This article describes how to send Swing Catalyst logs to the support crew, which is sometimes needed to help figure out a problem the customer is having. The logs contain information about everything performed and stored in Swing Catalyst, and may also include information about the computer and the Windows user, but will only be used to help identify problems and the information will never be shared with third parties.
Applies To
The support team asks you to send log files.
You want to report a bug.
Solution
Open Windows Start Menu.


In the search field type Swing Catalyst Log Sender.


 
Windows 8: 
1. Press the Windows key on your keyboard, and then write log sender (similarly to the example in Windows 7).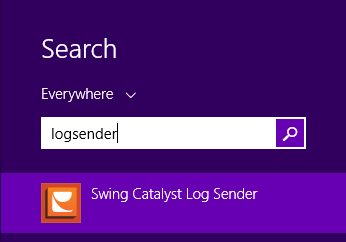 Enter your name, email and a short comment, then click the "Send logs" button.